Indulge in Culinary Excellence at The White Barn - Your Premier Hunter Valley Wedding Venue
Elevate your wedding celebration with the exclusive catering service at The White Barn Pokolbin. Guided by our executive in-house chef, Scott, embark on a culinary journey where flavors intertwine with your love story. Indulge in captivating shared plates like cheeseburger spring rolls and tempura prawns, and elegantly plated mains including chermoula lamb and crackled pork belly — each dish a testament to Scott's culinary mastery.
Enhance your reception with curated shared sides, vibrant salads, and delightful dessert canapés like Spanish churros and raspberry tartlets. Our two-course and three-course reception options, complete with an all-inclusive per-head rate, ensure a personalized experience. Scott's passion infuses magic into your special day, creating a feast that reflects your journey together. Reach out to us to transform your dream wedding menu into an unforgettable reality with Scott and his team.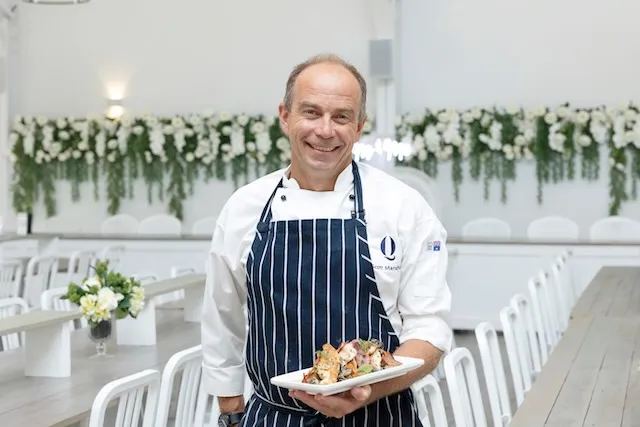 Scott Marshall
Executive In-House Chef at The White Barn Pokolbin
Delight in Our Culinary Creations
Korean Fried Chicken and Sesame

Tempura King Prawns, Miso Citrus

Swedish Prawn Toast

Duck, Goats Cheese, Cherry Balsamic Crustini

Mushroom and Mozarella Arancini

Blue Berry Cheese Cake Cups

Seated Canapes

Seated Canapes

Beef Brisket, Beans, Chimmi Churri, Mash and Braising Jus (Alt Drop)

Braised Chicken, Forest Mushrooms, Proscuitto, Thyme

Scallops, Romesco, Sweet Potato

Scallops, Romesco, Sweet Potato

Sides and Salads

Churros and Caramel

Mini Pavlova, Strawberries and Cream
Menu Options
Shared Plates
Canapés
Tempura Prawns with Miso Citrus Sauce – GFO
Classic Salt & Pepper Squid - GF
Beer Battered Barramundi with Lemon Myrtle & Aioli
Salmon Tataki & Pickled Gingeron Crisp Nori – GF
Swedish Prawn Toast with Dill & Crème Fraiche – GFO
Corn, Chorizo & Cheddar Arancini – GFO
Slow Cooked Lamb, Beetroot Labnaon Flatbread – GFO
Glazed Pork Belly with Pistachio Crumble – GF
Pork Dumplings with a Black Vinegar Dipping sauce
Seared Beef, Crisp Nori & Picked Ginger – GF
Korean Fried Chicken & Sesame – GF
Cheeseburger Spring Rolls
Chicken & Truffle Sausage Roll
Duck, Goats Cheese, Cherry Balsamic on Crostini – GFO
Mushroom, Chive & Mozzarella Arancini – GFO
Cauliflower & Cumin Fritters with Labnaand Sumac – GF
Grilled Halloumi, Chilli Honey & Rosemary – GF
Beetroot Fig Jam Tartlet – GFO
Szechuan Spiced Tofu with Chilli Jam – GF
Shared Plates
Braised Chicken, Forest Mushrooms, Prosciutto, & Thyme – GF
Crackled PorkBelly, Romesco Sauce, Edamame, & Sherry Caramel – GF
Beef Cheeks, Red Wine, Cannelloni Beans, Rosemary, Gremolata Crumbs – GFO
Persian Spiced Chicken, Labna, Piperade, Pomegranate, Pistachios – GF
Slow cooked Lamb Shoulder, Pumpkin Puree and Salsa Verde – GF
Roasted Pork, Carrot Puree, Crackling, Herbs and Fig Jus – GF
8-hour Coffee Rubbed Beef Brisket, Carrot Yogurt & Chimmi Churri Salsa – GF
Mexican Spiced Chicken, Chorizo, Corn, Coriander and Lime – GF
Atlantic Salmon, Green Tahini, Cucumber, Radish, and Chervil – GF
Butterflied Australian King Prawns with Tomato Chilli Tarragon Butter – GF
Roasted Field Mushrooms, Crisp Enoki, Caramelised Onions, Romesco Sauce – GF
Miso Glazed Eggplant, Broccolini, Sesame, Corn Puree – GF
Shared Sides
Maple Roasted Pumpkin, Spinach, Chickpeas, Seeds, Lemon Oil – GF
Grilled Cauliflower, Sweet Potato, Quinoa, Cumin, Pomegranate, Edamame – GF
Roasted Vegetables, Rocket, Whipped Cashews, Balsamic Glaze – GF
Roasted New Potatoes, Garlic, & Thyme – GF
Potato, Leek au Gratin – GF
Roasted Carrots, Broccolini, Feta, Orange & Sumac – GF
Roasted Mushrooms, Spinach, Macadamia Granola – GFO
Ratatouille, Basil Oil & Parmesan Crumbs – GFO
Shared Salad
Tomatoes, Marinated Feta, Cucumber, Radish, Leaves, Walnuts, with Basil dressing – GF
Couscous, Slow Roast Tomatoes, Rocket, Almonds, Tahini dressing – GFO
Green Beans, Goats Cheese, Sun Dried Figs, Quinoa, Pickled Shallots, Lemon Dressing – GF
Baby Cos Lettuce, Bacon, Croutons, Zucchini, Chives, Dill, with a Parmesan Dressing – GFO
Coleslaw of Corn, Savoy Cabbage, Fennel, Edamame, Spiced Cashews, Maple Dressing – GF
Spiced Chickpeas, Tomatoes and Snow Peas – GF
Alternate Drop
Entrees
Arancini of Corn & Chorizo, Manchego Cheese, Saffron Aioli, Basil
Tempura Prawns, Miso Capsicum Puree, Feta, Pickled Cucumber
BBQ Glazed Pork Belly, Picked Pineapple, Pistachio, Hazelnut Cream
Salt & Pepper Squid, Cucumber Green Mango Salad
Arancini of Forest Mushroom, Whipped Herb Ricotta, Dried Olives
Lamb Croqueta, Baba ghanoush, Beetroot Labna, Parsley Salad
Korean Fried Chicken, Kim Chi, Sesame, Ginger
Seared beef, Parmesan Cream, Pesto, Capers & Flat Bread
Mains
8 hour Beef Brisket, Chimi Churri Salsa, Potato Mash, Brocolini, Braising Jus
Beef Cheeks, Cauliflower Puree, Cavolo Nero, Potato au Gratin, Shiraz Jus
Crisp Skin Salmon, Pine Nut Salsa, Skordalia, Charred Greens, Preserved Lemon
Roasted Lamb, Parsnip Puree, Pistachio Crust, Freekah & Chick Pea Pilaf, Jus
Pork Loin, Crackling, Apple Walnut Salsa, Potato & Celiac Au Gratin, Cider Jus, Spinach
Pork Belly, White Bean Rosemary Puree, Fig & Mustard Jus, Mushroom and Pickled Fennel
Slow Cooked Lamb, Native Dukkha, Green Bean & Pea Salad, Turmeric Potatoes, Pepperberry Jus
Persian Chicken, Pistachio, Zucchini Cous Cous, Labna, Pomegranate
Chicken braised in forest mushroom cream, thyme, prosciutto, parmesan polenta, carrots.
Miso Glazed Eggplant, Corn Puree, Brocollini, Sesame, Chick Peas
Dessert
Only included within 3 Course Wedding Packages
Dessert Canapés
Spanish churros and caramel sauce
Chocolate and almond brownie
Mini pavlova, strawberries and cream
Raspberry and lemon tartlet
Chocolate and coffee truffles
Blueberry cheesecake cups
Salted caramel tart
Almond orange cake
Lemon meringue tart
Beer List
All beers are subject availability.
Beer and Cider List
Name
Peter Drayton Craft Beers
Peroni
Corona
150 Lashes
Cooper Pale Ale
Hahn Super Dry
Tooheys New
Tooheys Extra Dry
Great Northern
Heineken
Somerbys Apple Cider
Other beers are available on request
Wine List
White Barn Exclusive Wines
Sparkling Chardonnay Pinot Noir
Sparkling Moscato
Rosé
Chardonnay
Semillon Sauvignon Blanc
Cabernet Merlot
Shiraz
Spirits List
Please note, spirits are not included in the 5 Hour drinks service
Smirnoff Vodka
Jack Daniels
Jim Beam
Bacardi
Johnny Walker
Wild Turkey
Jamiesons
Chambord
Apperol
Tequila
Bombay Gin
Southern Comfort
Malibu
Bundaberg Rum
Enhance Your Wedding Experience
Elevate your celebration with our additional wedding enhancements. Discover a range of customizable options that add a unique touch to your special day at The White Barn Pokolbin.
From stylish decor to memorable entertainment, explore how our extras can make your wedding truly exceptional. Learn about these enhancements and bring your vision to life.
View Enhancements